Glion Balto X2 36V/10.5Ah 500W Folding Electric Scooter

A Compact Scooter for Fun and Commute!
Have a reliable daily driver for work or school with the Glion Balto Folding Electric Scooter! This compact and lightweight electric ride feature a stylish metal frame and a scooter design that is ideal for trips in the city. This affordable electric ride has a lithium battery pack for excellent power so that you can use it for commuting. Make sure to follow local road rules and regulations, and wear a helmet whenever you ride this scooter.
Now you can get around traffic and reach places in the city quickly. The Glion Balto Folding Scooter comes with a powerful 500-watt brushless motor so you can cross rough terrain. It is suited for hard surfaces and can travel uphill. The motor is installed inside the front wheel hub, which has the advantages of being mechanically simpler, providing torque directly to the wheels, and protecting the motor from the elements. The Glion Balto Electric Scooter is available in a beautiful silver finish.
The Glion Balto Electric Scooter can be used for daily commuting and going to work or school. It is equipped with a throttle so you can travel effortlessly. It ranges around 20 miles, so it is a perfect round-trip or last-mile ride for leisure and short trips. Get around and roam the city or get to the office in style. Purchase the Glion Balto Electric Scooter here at Electric Bike Paradise!
The Glion Balto Electric Scooter is perfect for commuting and trips to work or school. This scooter has a minimalist and durable frame, plus a set of air-filled tires that makes it comfortable to ride. When folded, the scooter measures only 37" L x 12" W x 8" H when folded. Also, it only needs small storage, so it is ideal for apartments or dormitories where space is tight.

The Balto is equipped with a throttle and a 36-volt, 500-watt brushless hub motor, giving this scooter good acceleration. It has a top speed of 17 miles per hour, so you can speed up on the road and go with the traffic. The motor is located inside the front wheel, sending torque directly to the ground for fast acceleration. 

The scooter comes with a set of air-filled 12-inch tires, which are large enough to cushion the ride and make your travel more bearable. Like on a bike, you can ride this scooter on the pavement and be driven on the dirt paths to make your commute shorter. The scooter comes with a disc brake on the rear for excellent stopping power.

The electric city scooter has a single-charge range of 20 miles, so it is ideal for last-mile trips and round trips. The scooter comes with a 10.5 amp/hour lithium-ion battery pack. It charges to full just six hours, so you can charge the scooter for an hour or two to extend its range. 

The scooter comes with a unique folding frame that folds sideways for more compact storage. You can use the cargo cage to store the scooter vertically, which is welcome for tight spaces and apartments.

The Glion Balto City Scooter features a handsome industrial barebone metal frame with a wide step board and a seat for added comfort while riding. It features a lightweight, folding frame that makes storage and parking easy. The Balto is perfect for leisure and the commute. 
Have Fun with this Electric Scooter!
Do you need a comfortable electric scooter for commuting and mobility? Are you looking to have something practical for high-traffic, urban environments? If you want a rugged ride for trips in the city, the Glion Balto Electric Scooter is for you. Use this for the commute and save time from getting stuck in traffic or looking for parking. This electric scooter comes with a 500-watt gearless hub motor that gives it a fast top speed of 17 miles per hour, so it is equipped for the road and can keep up with city traffic. 
The Glion Balto can accelerate fast and roll on rough surfaces thanks to its pneumatic tires and lithium power pack. The air-filled 12-inch tires do an excellent job cushioning the ride and improving grip. The scooter is equipped with a disc brake, a seat, a rear cargo basket, and a headlight needed for the road. Now you can make trips to the city and bring some bags or luggage with you. The Glion Balto Electric Scooter is perfect for anyone that needs a daily rider or wants to bring their scooter with them in the car. 
Excellent Dimensions
The Glion Balto Scooter measures 48" inch L x 24" inch W x 45" H when assembled. The scooter weighs 38 lbs with batteries. The front and rear wheels measure 12 inches in diameter. Make sure to inspect the scooter and test every function before first use. Also, charge the battery for up to six hours before using the mobility scooter.
The Balto is powered by a 36-volt lithium battery pack with a 10.5Ah capacity. It comes with a seat and a side mirror. You can install a rear cargo cage and a basket on the scooter too. Make sure to charge the scooter before use. Before riding the scooter for the first time, adjust the brakes and inspect the tires. Check every component of the scooter before using it. 
Have Fun and Go Anywhere with Glion Electric Scooters!
Electric vehicles like scooters are the way to go for an active and sustainable lifestyle. Driving a car in the city can eat up your limited time and cut productivity. Don't forget the cost of car maintenance, insurance, and gas. 
If you are looking for reliable and fun electric rides that look different, choose Glion. We make handsome scooters and bikes with high-quality batteries and properly designed motors made for daily use. Have fun using our rides for daily commuting or leisure rides. Get amazing deals plus tons of freebies when you purchase this Glion Balto Folding Electric Scooter here at Electric Bike Paradise!
Specifications
Maximum rider weight: 255 lbs/115 kg
Weight (with battery): 38 lbs/17 kg
Top speed: 17 mph/27Kmh
Estimated Range per charge: 20 miles/32 km*
Motor: Peak 750W geared brushless hub motor
Battery: Samsung 36V 10.5 Ah
Battery charge time: 5 hours 100% (Optional 3A Charger: 3 hours)
Charger input voltage: 100-240V
Battery cycle life: 1000+ cycles (3-5 years)
Frame: Steel frame with 6061-T6 aircraft grade aluminum alloy (powder-coated)
Tires: 12-inch pneumatic tires
Charger and horn included
Dual Purpose Cargo/Vertical Self Standing Rack and Basket sold separately
Size folded: 37 x 12 x 8 inches/95 x 30 x 20 cm
Inverter and Optional 3A charger sold separately
Cargo rack weight limit: 25lbs/11.33kg

*Estimated range measured with no wind, at 75 degrees F, the scooter's fully charged to ride at an even speed of 15 mph on a flat surface with a load of 170 pounds.
Geometry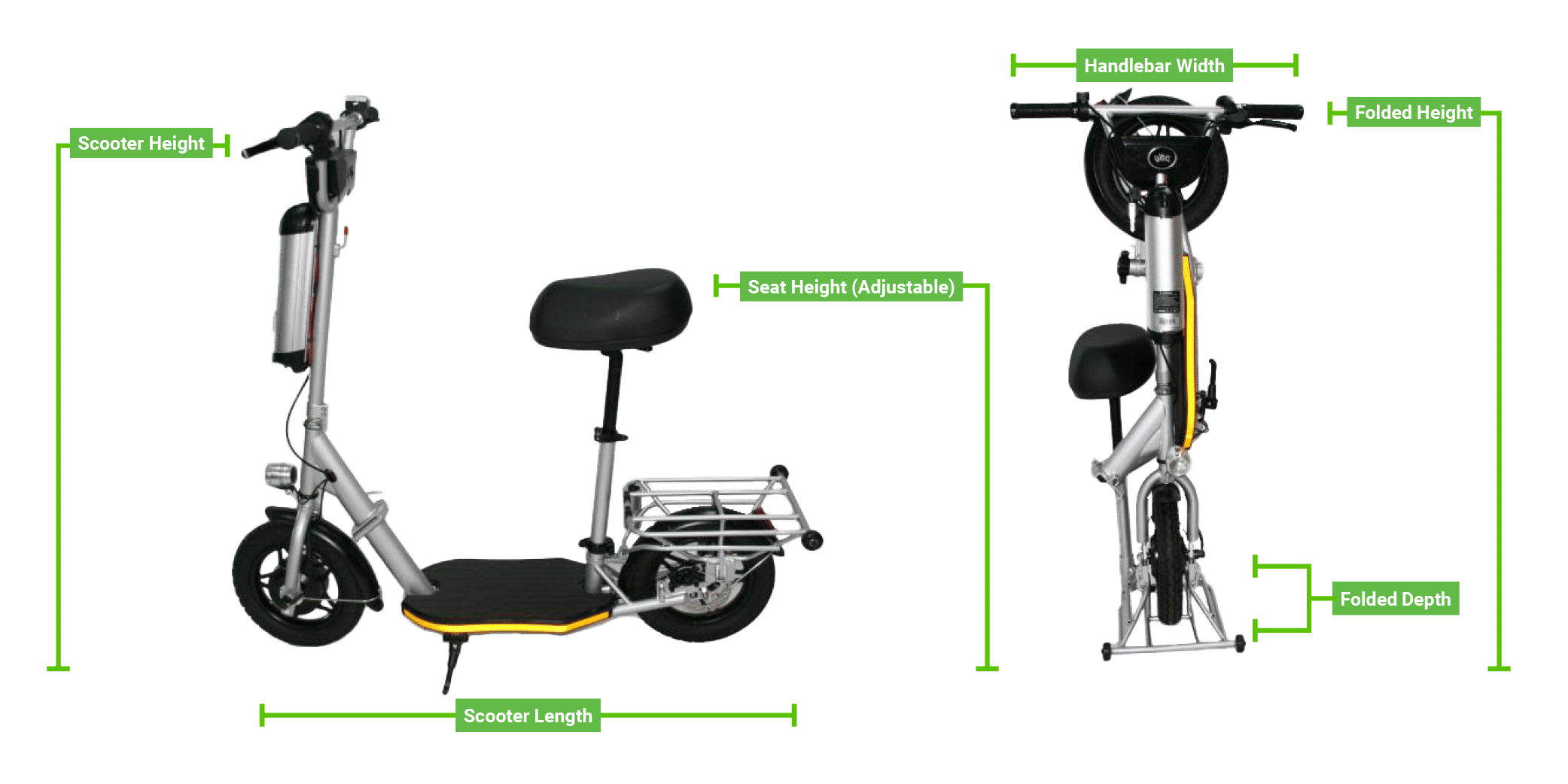 Scooter Height: 45"
Scooter Length: 48" with no rack & 50" with rack
Seat Height (Adjustable): 26.5" - 33.5" from ground
Foot Deck Dimensions: 17.5" x 9"
Seat Dimensions: 12" x 8"
Scooter Height (Folded): 48"
Handlebar Width: 24"
Folded Depth: 16"
Product Videos
View and Download

Order a Glion Balto X2 36V/10.5Ah 500W Folding Electric Scooter today from ElectricBikeParadise.com. Free shipping + free gifts on all of our Glion Folding Electric Scooters. Buy today and get a discount, free shipping, and a free gift!
I am very pleased with my scooter. It's been fun to ride and seems sturdy!
Smooth ride
There's a lot of like about this scooter. It's very sturdy, rides super smooth and quiet. The battery life is long too. This is great for short and medium length commuting. I can't speak for the durability of it yet, but I had a Glion Dolly before this and it held up well over 2 years.
Solid product
I use this daily for a short commute to work. Ran great right out of the box, and still runs great three months later.
Dog walking tool...
Performs as described. I would recommend this scooter to anyone that doesn't enjoy exercising when unnecessary. I am one who would like to choose to exercise or not. My dog has never been happier and his nails are amazing!
Great Purchase
Fantastic scooter! Wasn't expecting this to go way beyond my expectations. Durable, easy to maneuver, and looks good too!