Glion 510 B1 48V/10.4Ah 500W Folding Fat Tire Electric Bike
A Beautiful Folding Bike for Fun and Commute!
Have a reliable daily driver for work or school with the Glion 510 B1 Folding Electric Bike! This compact electric ride features a stylish metal frame ideal for trips in the city. This affordable electric ride comes with a lithium battery pack for excellent power so that you can use it to keep up with traffic. It comes with fat tires for more traction and comfort. Make sure to follow local road rules and regulations, and wear a helmet whenever you ride this bike.
Now be capable of riding with traffic and quickly reaching places in the city. The Glion 510 B1 Folding Bike comes with a powerful 500-watt brushless motor so you can cross rough terrain. Since it has fat tires, expect this bike to have a decent off-road capability. The motor is installed inside the rear wheel hub, which has the advantages of being mechanically simpler, providing torque directly to the wheels, and protecting the motor from the elements. The Glion 510 B1 Electric Bike is available in a beautiful silver finish.
The Glion 510 B1 Electric Bike can be used for daily commuting and work or school. It is equipped with a throttle so you can forget about pedaling. It ranges around 30 miles, so it is a perfect round-trip or last-mile ride for leisure and short trips. Get around and roam the city or get to the office in style. Purchase the Glion 510 B1 Electric Bike here at Electric Bike Paradise!
The Glion 510 B1 Electric Commuter Bike is ideal for beginners that want a usable electric bike for daily commuting and going to work or school. This compact electric bike is comfortable and simple enough for beginners looking for a no-frills and more practical ride. Just turn on the key, and you are on your way. 

The 510 B1is equipped with a throttle and a 48-volt, 500-watt brushless hub motor, giving this bike excellent acceleration. It has five-speed settings and a top speed of 20 miles per hour, so you can speed up on the road and go with the traffic. The motor is located inside the rear wheel, sending torque directly to the ground for fast acceleration. 

The bike comes with a set of air-filled 20-inch spoked rims and fat tires, which work well to cushion the ride and make travel more bearable. You can ride it on the pavement and drive on alleys and dirt paths to make your commute shorter. The bike comes with disc brakes on all wheels for excellent stopping power.

The electric city bike has a single-charge range of 30 miles, so it is ideal for round trips and routes in the city. The scooter comes with a 10.5 amp/hour lithium-ion battery pack. It charges to full just six hours, so you can charge the bike for an hour or two to extend its range. 

The bike comes with a streamlined folding frame with a hidden battery pack, so it looks more like an ordinary bike than an electric. It also comes with a seven-speed Shimano derailleur and a slim saddle. The whole bike has an IPX4 water-resistance rating.

You can fold and bring it inside, or put it in the car and bring it to your destination. It is compact and can be brought anywhere. The Glion 510 B1 bike is perfect for leisure and the commute. 
A Comfortable Electric Bike You Will Love to Ride!
Do you need a capable electric bike for the city commuting to work or school? Are you looking to have something usable for high-traffic, urban environments? The Glion 510 B1 Fat Tire Electric Bike comes with premium features and a convenient folding frame perfect for those living in the urban jungle. Use this for the commute and save time from getting stuck in traffic. This electric bike comes with a powerful 500-watt electric motor, giving it an incredible top speed of 20 miles per hour and the ability to climb uphill paths. The electric bike only weighs 60 lbs. It weighs lighter than other bikes and, therefore easy to ride.
The Glion 510 B1 City Bike can accelerate fast and roll on rough surfaces thanks to its fat tires and lithium power pack. The battery is hidden inside the bike frame for a seamless look. The four-inch-wide fat tires do an excellent job cushioning the ride and improving grip. The bike is equipped with disc brakes and a headlight needed for the road. You can fold the bike and bring it inside your home or in a truck. You can easily bring it anywhere. 
Excellent Dimensions
The Glion 510 B1 Electric Bike measures 66" inch L x 46" H when assembled. The bike weighs 50 lbs with batteries. The front and rear wheels measure 20 inches in diameter. Make sure to inspect the bike and test every function before first use. Also, charge the battery for up to six hours before using the electric bike.
The Glion 510 B1 is powered by a 48-volt lithium battery pack with a 10.5Ah capacity. It comes with a seat, a headlight, and a kickstand. Make sure to charge the unit before use. Before riding the unit for the first time, adjust the brakes and inspect the tires. Check every component of the bike before using it. 
Have Fun and Go Anywhere with Glion Electric Bikes!
Electric vehicles like scooters are the way to go for an active and sustainable lifestyle. Driving a car in the city can eat up your limited time and cut productivity. Don't forget the cost of car maintenance, insurance, and gas. 
If you are looking for reliable and fun electric rides that look different, choose Glion. We make handsome scooters and bikes with high-quality batteries and properly designed motors made for daily use. Have fun using our rides for daily commuting or leisure rides. Get amazing deals plus tons of freebies when you purchase this Glion Glion 510 B1 Folding Electric Bike here at Electric Bike Paradise!
Specifications
Maximum Speed: 20 mph/32 kph
Weight: 60 lbs/28 kg
Max Load: 250 lbs/113 kg
Estimated Range per Charge: 30mi
Motor: 500 Watts
Battery: 48V 10.4 ah
Battery charge time: Approximately 5 hours
Charger: 48V 3A
Average Range Per Charge*: 30 miles
Water Resistance: IPX4
Wheel Size: 20" x 4"
*Average Range Per Charge is measured under the conditions that power is sufficient, with a 165 lbs. (75kg) load, at 6°F(30°C), 70% humidity, on a level hard surfaced road, in pure electric riding mode with no wind. Actual results may vary based on differences in temperature, load, wind speed, road conditions and other factors.
Geometry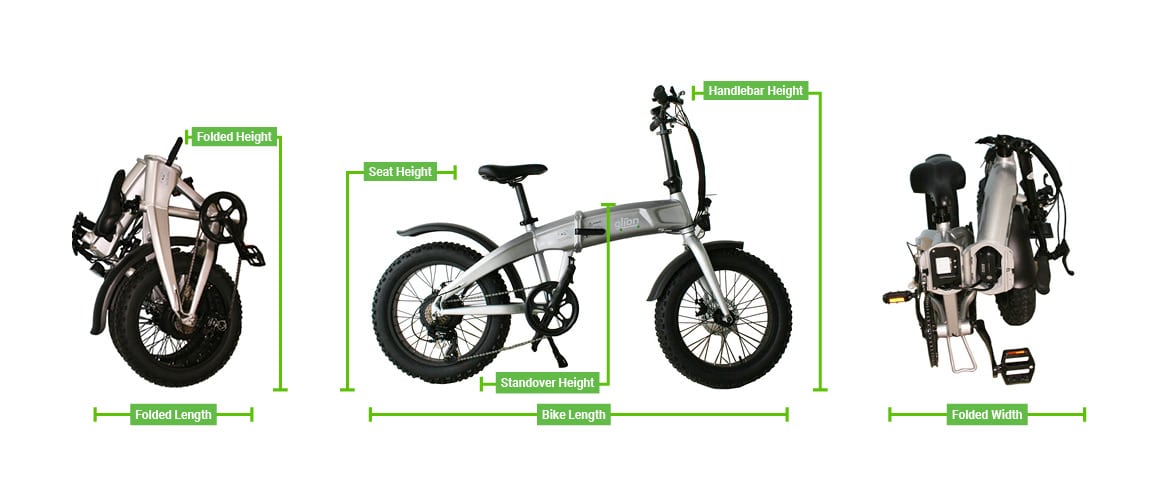 Folded Height

 

40"

 

Folded Length

 

30"

 

Folded Width

 

23"
Seat Height (Adjustable)

 

29.5" - 36" from ground

 

Standover Height

 

29" from ground

 

Handlebar Height (Adjustable)

 

42" - 46" from ground
Bike Length (Tire to Tire)

 

66"

 

Pedal Maximum Height

 

18" from ground
Product Videos
View and Download
Order a Glion 510 B1 48V/10.4Ah 500W Folding Fat Tire Electric Bike today from ElectricBikeParadise.com. Free shipping + free gifts on all of our Glion Folding Fat Tire Electric Bikes. Buy today and get a discount, free shipping, and a free gift!
Awesome e-bikes
This bike is awesome. We purchased two for my wife and I to take camping and to get some exercise with. They have pedal assist modes which work very well. We fit both into bike racks on the back bumper of the camper. Simple to assemble. Nice workmanship. A+!
Satisfied Customer!
Wonderful, affordable, nice-looking electric bike! For those new to ebikes: wear a helmet; they are tricky to master.
Easy to get on and a pleasure to ride👍
LOVE this ebike. For a 65-year-old woman with spine issues, this bike is such a gift. I can ride with my husband and friends again, without pain.
Love it!
It's my first electric bike and I love it. Very easy to assemble, which took about 10 minutes. Took a few hours for the charging light to turn green and off I went on the bike. It's a joy to ride. Puts a big smile on your face.