MotoCaddy M7 Remote Electric Golf Caddy TRL008M7UL
Developed to use the cutting-edge functionality of the powerful M-Series range, the brand new compact-folding M7 REMOTE boasts a rechargeable remote for the ultimate in responsive control.
Note: we only deliver to mainland U.S. addresses (excludes Hawaii & Alaska).
New M7 Remote Electric Caddy
Developed to utilise the cutting-edge functionality of the powerful M-Series range, the brand new compact-folding M7 REMOTE boasts a rechargeable remote for the ultimate in responsive control.
Remote - Reimagined
Following extensive development and testing, the M7 REMOTE's powerful drive system has been completely redesigned to offer increased reliability, optimised battery efficiency, and instinctive caddy control from your first time behind the wheel.
Responsive Control
A new-look, rechargeable remote control handset conveniently clips to the caddy frame for easy access and storage. The upgraded handset provides golfers with new ergonomic controls, improving usability and precision when controlling the caddy.
Compact Folding, Simplified
The M7 REMOTE is the newest addition to the award-winning M-Series range. The sophisticated remote control model integrates all the cutting-edge M-Series functionality including the world's simplest folding mechanism, innovative trunk friendly design, high-power 28.8V system, easily-adjustable handle height and over-sized tubing for ultimate caddy stability. It also features a removable rear anti-tip wheel and automatic Downhill Control to traverse undulations with ease.
IDEAL FOR : Golfers looking for a small folding remote model with exceptional control
Features
Rechargeable remote control handset
Ergonomic handset design that can be conveniently stored on the caddy frame
Forward, left, right & reverse controls
Simple yet tactile buttons make caddy handling instinctive from the first use
Pause & resume, plus emergency stop
Helps golfers stay in control and safely operate the caddy around the course
Automatic Downhill Control
Allows the caddy to maintain a constant speed when moving down a gradient
Easy manual control mode
Easily switch to manual electric caddy control if necessary
Removable rear anti-tip wheel
Keeps the caddy balanced through rough terrain and course undulations
50m range cut-out
Keep control of the M7 REMOTE from distance with complete peace of mind
120 second hibernation
Stops the caddy if no buttons are pressed for 2 minutes
Remote handset lock function
Ensures the handset does not get engaged accidentally
Simple, compact-folding system
World renowned folding technology as featured on all M-Series caddies
SlimFold trunk friendly design
Fits into the smallest trunks for easy transportation and storage
Next generation, High Power 28.8V system
More powerful, efficient, and reliable than ever before
Anti-glare LCD screen
Excellent screen visibility no matter the light conditions
Nine-speed settings, Speed indicator & Battery meter
Stay in complete control with a quick glance at the handle display
On screen remote handset battery meter
Helps golfers ensure the wireless remote is sufficiently charged
USB charging port
Ideal for charging any USB powered device during a round of golf
Super‑lightweight, waterproof Lithium battery
IP66 water & dust rating for effective protection against the elements
On board charging
No need to remove the caddy's battery for storage & transportation
Oversize tubing for ultimate handle stability
Thicker frame profile combines with premium quality materials for unrivalled performance
Innovative inverting wheels
Revolutionary space-saving technology - flip the wheels to fit into the tightest spaces
Convenient auto‑open stand
Allows the caddy to stand upright for minimised folded footprint
Simple, fully-adjustable handle height
Ensures the M7 REMOTE is suitable for golfers of every height
EASILOCK™ compatible
Securely attach your Motocaddy cart bag without a lower bag strap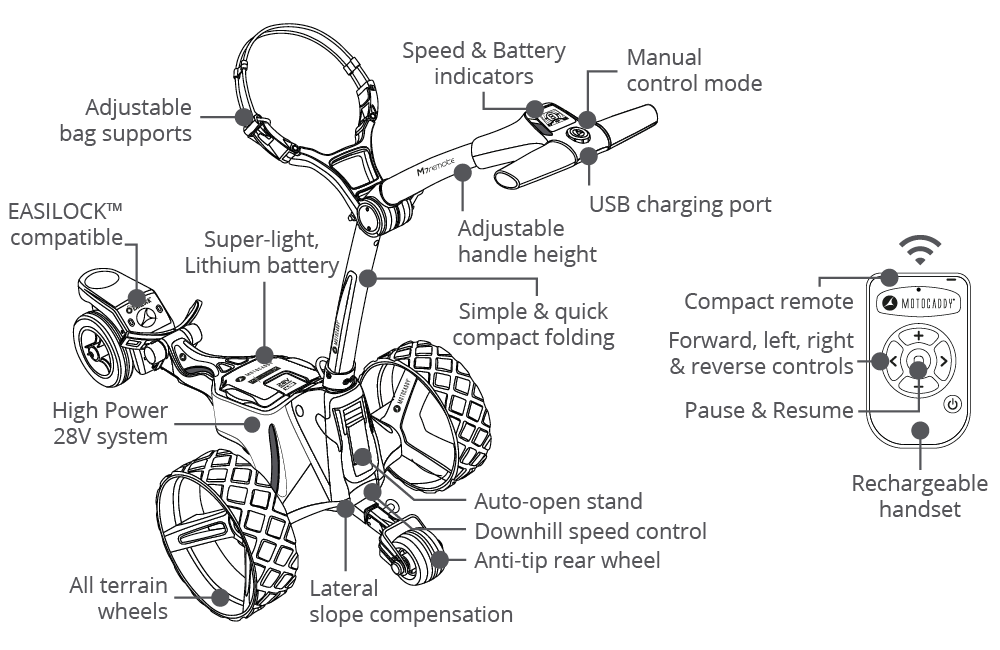 Specifications
| | |
| --- | --- |
| WEIGHT: | 32.00lbs |
| DIMENSIONS: | 25.5 (L) x 18.5 (W) x 16.5in (H) |
| MOTOR: | 2 x 230w DHC |
| VOLTAGE: | 28.8V |
| MATERIAL: | Aluminum |
| WARRANTY LENGTH: | 24 months (trolley & charger) / 60 months (Lithium battery) |
| COLOUR OPTIONS: | Graphite |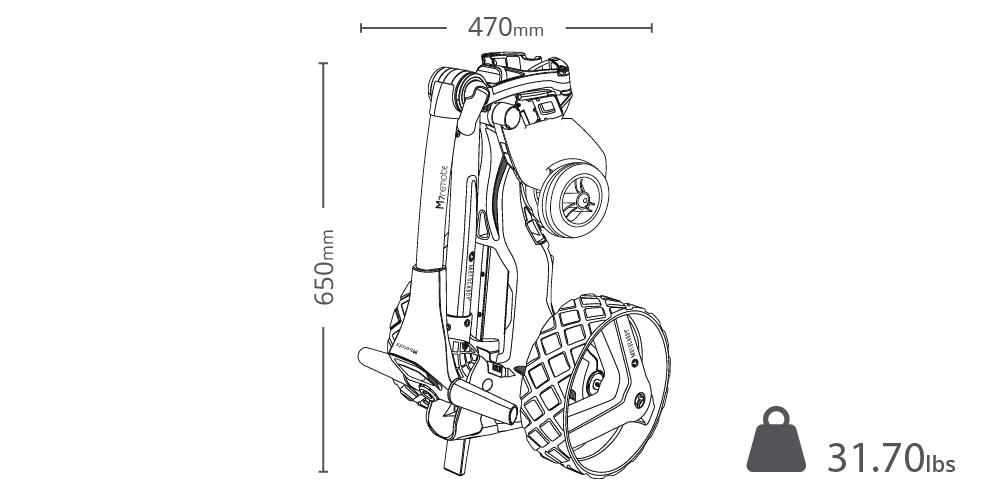 View & Download
Order a MotoCaddy M7 Remote Electric Golf Caddy TRL008M7UL today from ElectricBikeParadise.com. Free shipping + free gifts on all of our MotoCaddy Electric Golf Caddies. Buy today and get a discount, free shipping, and a free gift! 
Perfect!
Everything works perfectly. Very easy to set up, use, fold up, charge, etc.
Like everything about it
It makes walking the golf course that much better!
Great caddy
Great caddy! Works as I expected even better!
Five Stars
Just like I expected
Shipped early arrived in fats rather than weeks!
We like them very much
Works extremely well we've used it in the rain in the sun no issues! I am very satisfied!