Samebike MY-SMS26 48V/8Ah 350W Electric Mountain Bike
Have a Comfortable Commute with this Electric Bike!
Travel the streets in style and be comfortable with the Samebike MY-SMS26 Electric Bike! This bike features a suspension fork and a standard mountain bike geometry that is comfortable for beginners. It is perfect as a first-time electric bike and ideal for beginners who are just getting started with electric-powered rides. Make sure to follow local road rules and regulations, and wear a helmet whenever you ride electric bicycles.
Comfortable for Long Journeys
Nothing is 'too far' or 'too hilly' for this great bike. The MY-SMS26 Electric Bike is the perfect bike for riders looking for a ride that is comfortable and easy to operate. It comes with a weather-resistant aluminum frame that makes it rigid and lightweight. 
The bike has a somewhat relaxed geometry frame, making it long rides and touring so much fun. Looking at its price, the Samebike MY-SMS26 is among the best electric bikes for sale today. It is available in beautiful white and black colors.
Go Uphill and Speed on the Pavement!
The MY-SMS26 urban bike is designed for easy riding. The bike comes with a 350-watt electric motor that can clock up to 18.6 miles per hour and climb slopes up to 15 degrees. With the pedal assist, you will have no problem biking on rough roads or riding uphill.
The hub motor design has the advantages of being mechanically simpler, providing torque directly to the wheels, and protecting the motor from the elements. It comes with a lithium battery pack, so you can undertake uphill routes without losing power.
Save the Environment with Electric Bikes
Electric-powered bikes are less polluting than cars and motorcycles. Because it is electric, it is very quiet and has no emissions. The carbon footprint of production and daily use of electric-powered bikes are far lower than those with combustion engines. Widespread use of e-bikes means lesser dependence on fossil fuels that can help with global warming and reduce toxic fumes in the air we breathe.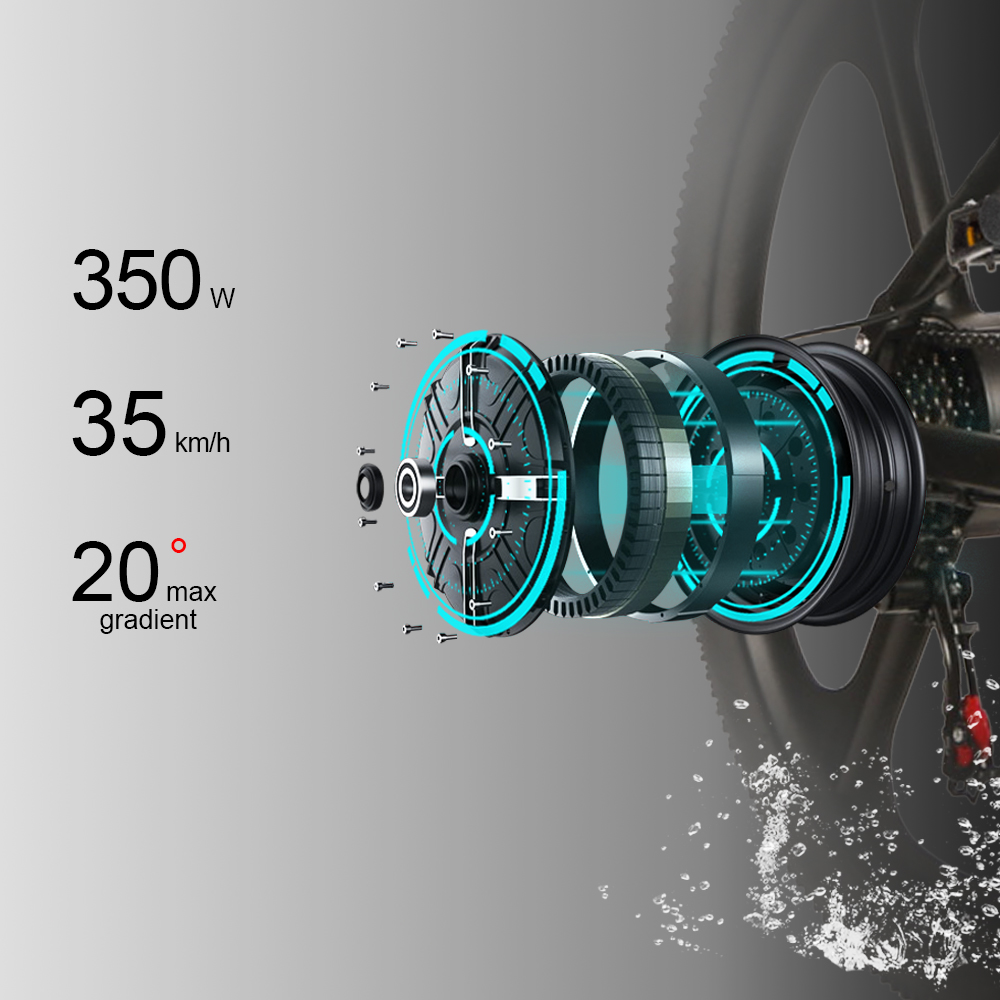 Cut Your Commute!
Electric bicycles are awesome whether you live in the city, suburbs, or rural areas. Because it is a bike, you can use it on bike lanes, alleys, and on empty sidewalks to avoid city traffic. It is a perfect choice for users who want to commute without the hassle of driving on congested roads. The bike weight is 66.1 lbs. so it is easy to pedal. It is an ideal ride for round trips or reaching spots in the city. Have your daily dose of exercise while avoiding city traffic to get to your destination quickly. Purchase the Samebike MY-SMS26 E-Bike here at Electric Bike Paradise!
If you want a gorgeous electric bike made for beginners, the Samebike MY-SMS26 is for you. It is ideal for long trips and commuting, and it offers a good balance of comfort and rideability. You will love its classic mountain bike geometry with decent features made for daily commuting. 

The Samebike MY-SMS26 Electric Bike comes with a powerful 48-volt, 350-watt electric motor that can clock 18.6 mph. You can climb steep hills up to 15-degree slopes and achieve good speeds on the road to cut your commute. The motor is located inside the rear wheel hub, which puts the torque directly on the ground. Expect the bike to have no problem riding uphill or rolling on rough roads.

The bike comes with an 8 ampere-hour battery pack and an astounding range of up to 49 miles (on assist, 24.8 kilometers on pure electric), so it has more range than the competition. The battery pack is made of 18650 lithium cells hidden inside the bike frame for a seamless look. 

You can use this bike for commuting or round trips. This affordable bike comes with a beautiful frame and 26-inch wheels with alloy rims for a gorgeous, sporty look. The bike comes with a front fork suspension that helps soften the ride and absorb the shocks caused by riding on rough terrain. 

Have no problems traveling with the thumb throttle, which is easy to use and promotes better balance while riding. The MY-SMS26 has five levels of intelligent assist, so you can choose to go faster or cover more ground. See everything you need to know by looking at the equipped LCD screen. 

It comes with essential parts you expect to find in a classic mountain bike. The MY-SMS26 comes with straight handlebars, aluminum guards on the crankset to protect the chainring and high-quality handlebar grips. The bike comes with a premium Shimano with seven gears for conquering steep roads. 

The Samebike MY-SMS26 bike is made for durability. The frame is made of 6061 aluminum alloy that is lightweight and rigid enough to withstand the rigors of daily use. Even the brake levers and the crankset are made of aluminum, so these components will not rust.

For its price, the bike has a full-suspension setup and mechanical disc brakes for improved stopping power. Because it has an electric motor, you will have no problem riding over bumps and curbs. The Samebike MY-SMS26 Electric Bike is perfect for commuting and everyday mobility.
A Gorgeous Electric Bike for Cruising the Streets!
Do you need a capable electric bike for the city commuting to work or school? Are you looking to have something usable for high-traffic, urban environments? If you want a bike that can handle various surfaces, the Samebike MY-SMS26 Electric Bike is for you. It has a classic mountain bike frame that is easy to propel. Most riders have ridden mountain bikes and find them easy to ride. The MY-SMS26 comes with a 48-volt 350-watt electric motor with five levels of electric assist, so you can travel comfortably and not get drenched in sweat. 
Enjoy traveling around the city with the front fork and a set of sporty 26-inch alloy rims that makes the ride super smooth. It comes with an 8 Ah battery pack that gives it an excellent range of 49 miles, so you can safely use it for round-trip commutes. 
Excellent Dimensions
When assembled, the frame size of the Samebike MY-SMS26 electric bike measures 66.9" inch L x 41.3" H. The bike weighs 66.1 lbs with batteries. The front and rear tires measure 26 inches in diameter. There is a USB outlet in the battery pack for charging your phone. Make sure to inspect the unit and test every function before first use. Also, charge the battery for up to four hours before using the bike.
The MY-SMS26 bike is powered by a 48-volt lithium battery pack with an 8 Ah capacity. Make sure to charge the bike before use. Before riding the bike for the first time, adjust the brakes and inspect the tires. Check every component of the bike before using it.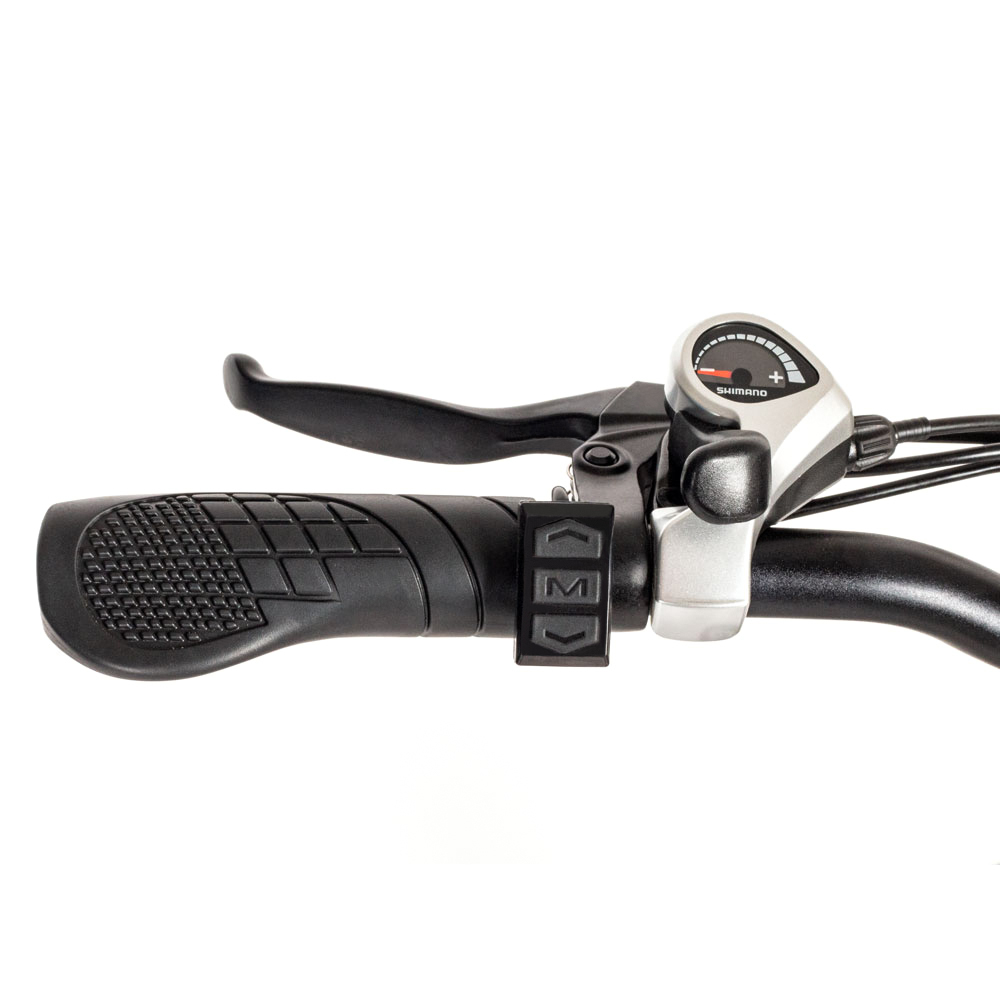 Equipped with Essentials Right Out of the Box!
The Samebike MY-SMS26 City Bike is designed to be used right out of the box, save for some minor assembly. It comes with included features that you will need for the ride. An LCD screen in the center of the handlebars shows the battery level, speed, miles traveled, and pedal assist level. No more guesswork and fear of suddenly losing power when riding the bike!
You can safely use this bike for daily travels. The brake levers are made of aluminum, the crankset is made of heavy-duty aluminum, and the frame itself is made of durable 6061 aluminum alloy, so there are fewer issues of rust in the long term. Even the battery pack is made of high-quality 18650 cells, which have strong output and a lot more life cycles than lead batteries.
Make Life Better. Ride a Samebike Electric Bike Now!
Electric bicycles are the way to go for an active and sustainable lifestyle. It has been proven that riding two wheels allow people to achieve physical activity levels, especially those who aren't fit enough for exercise. Driving a car in the city can eat up your limited time and cut productivity. Don't forget the cost of car maintenance, insurance, and gas. 
If you are looking for well-designed electric bikes that will not break the bank, get Samebikes. We always dream of living in a low-carbon world. To do that, we make electric bikes for the average rider who wants a durable bike enough to withstand the rigors of everyday commute. Our bikes have UL, MSDS, UN38.3, and CE certifications, plus we offer excellent customer service. Get amazing deals plus tons of freebies when you purchase this Samebike MY-SMS26 Electric Bike here at Electric Bike Paradise!
Specifications

Size & Fit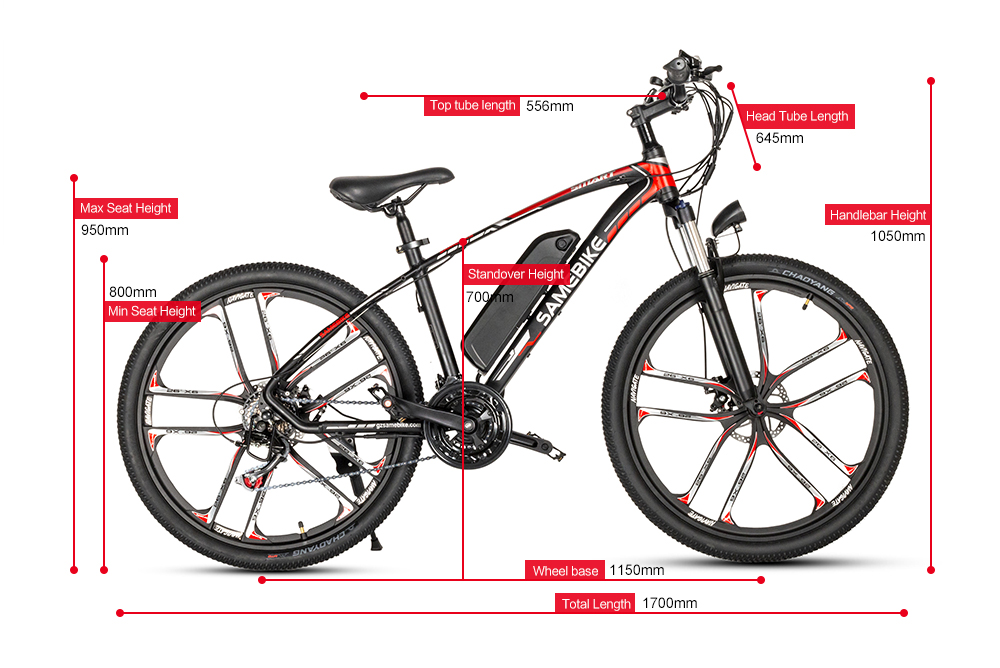 Product Video
Order a Samebike MY-SMS26 48V/8Ah 350W Electric Mountain Bike today from ElectricBikeParadise.com. Free shipping + free gifts on all of our Samebike Electric Mountain Bikes. Buy today and get a discount, free shipping, and a free gift!
Fantastic Power
I'm 6'4" and 235 lb. I can get 27-30 miles on a gravel trail per charge without peddling at all. I normally long-distance road bike so for this, I didn't want to work out when I'm out with my wife. I have 7 rides on it so far averaging 25 miles. Enjoy!
Great entry-level e-bike!
This ebike is very affordable but it is of excellent heavy duty quality. The battery seems to charge quickly. I can generally ride it for about 25 km on full electric per charge. All in all, it's a great entry-level e-bike!
Disc brakes
Bought 2 of these bikes. Came packaged well. Pleased that they have disc brakes.
Great smooth riding bike!
I really like this ebike. Plenty of power. I've put 100 miles on it and on the lowest assist level it does great giving me all the help I need on hills. I can easily get to 30 miles per hour and go 50 miles on a charge.