Samebike XWXL09 48V/10Ah 500W Folding Fat Tire Electric Bike
Pay Over Time
Our Most Powerful and Comfortable E-Bike!
Samebike XWXL09 Electric Bike has 4" fat tires and full suspension will absorb all the bumps in your path, ensuring that you'll be comfortable whether you choose the pavement or the trail. Equipped with a powerful 500W motor and 48V10AH Battery ,which lets you ride faster, go farther, all while having more fun than ever before.
Long-Range Battery
Samebike XWXL09 Electric Bike adopts 18650 high performance car battery cell, Same battery,40% longer riding range; 48v 10Ah stable and strong output. You can always enjoy a longer trip that takes you up to 30~60 miles on a single charge.
Folding E-bike
Take your Samebike XWXL09 Electric Bike anywhere, without the need for a bike rack. The electric folding bike will fold up and fit in your trunk, in your closet, and even under your desk.
Fit & Size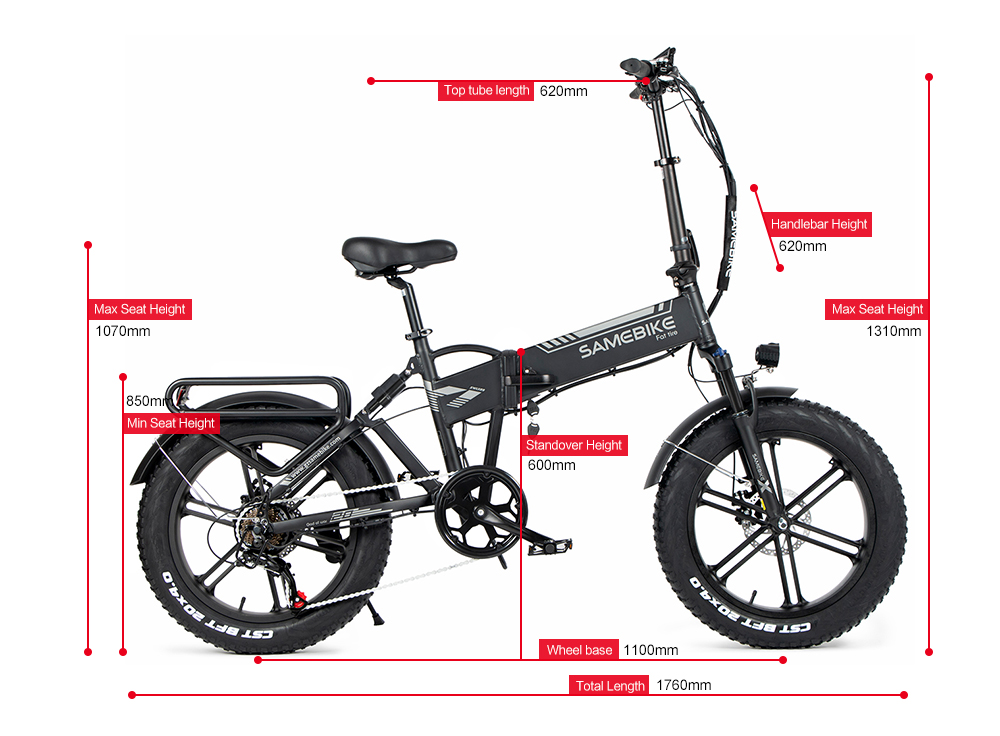 Can't wait!
Enjoying my bike! Can't wait for spring weather to enjoy bike rides with my kids :)
Beautiful quality bike
Just finished assembling my bike. It went together easily enough that for most of it, you just need common sense and not the instructions! Instructions came in handy, though, for adjusting the brakes. I will be taking it to a bike shop for professional tuning, and to make sure I did everything correctly. It is really a beautiful bike! I was honestly expecting less from a bike I ordered online, but have been pleasantly surprised. I will update my review when I am able to do a good long ride on it.
Beautiful and comfortable ride!
Great bike, easy to assemble. Sturdy and comfortable ride!
I love my bike!
This is the best bike I have ever owned, by far. I ride my bike 5 times a week and wish I had more time to ride. I recommend Same bike to anyone who asks me. Assembly was easy, I did it myself!
Great Bike!!
Very happy with the bike. It came with instructions and was easy to build. Nice design, runs smooth, and overall happy with my purchase. The seat is comfortable, the frame is light. Price is comparable to other bikes available.