Samebike XWXL09 48V/10Ah 500W Folding Fat Tire Electric Bike
Our most powerful and comfortable e-bike! 4" fat tires and full suspension will absorb all the bumps in your path, ensure that you'll be comfortable whether you choose the pavement or the trail. Equipped with a powerful 500W motor and 48V10AH Battery ,which lets you ride faster, go farther, all while having more fun than ever before.
Backlit LCD Display
Easily view important ride metrics such as speed, pedal assist level, battery capacity, distance traveled and more.
Long-Range Battery
Adopt 18650 high performance car battery cell, Same battery,40% more longer riding range; 48v 10Ah stable and strong output. You can always enjoy a longer trip that takes you up to 30~60 miles on a single charge. More than 1000 charging cycles, Battery capacity is not less than 90% after 8 months, not less than 80% after 18 months. With over charge and power off protection. It is globally insured by CPIC.
500W Brushless Motor
Permanent magnet synchronous high-speed motor with brushless power system, output 70 torque and strong power. Power your life with max speed 25~35kmh; Enjoy effortless riding experience even at 20 degrees uphill. you might like to town quickly without sitting in traffic or needing a parking space. Or simply have a fun in the evening or weekend.
Shock Absorber System
Take your samebike anywhere with confidence! Four bar system with suspension fork and stable 4" fat tire, will absorb even the harshest terrain and provide you with a level of ride comfort you never thought possible out there on the trail!
Folding E-bike
Take your e-bike anywhere, without the need for a bike rack. The electric folding bike will fold up and fit in your trunk, in your closet, and even under your desk.
Specifications
Fit & Size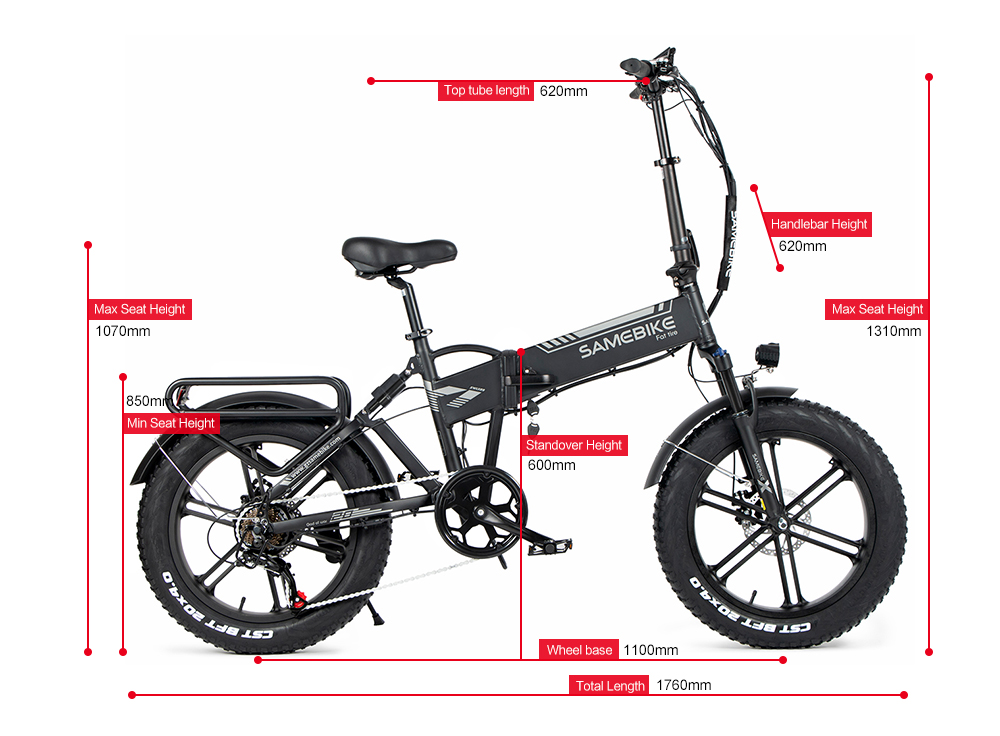 Product Videos
Order a Samebike XWXL09 48V/10Ah 500W Folding Fat Tire Electric Bike today from ElectricBikeParadise.com. Free shipping + free gifts on all of our Samebike Folding Fat Tire Electric Bikes. Buy today and get a discount, free shipping, and a free gift!
Can't wait!
Enjoying my bike! Can't wait for spring weather to enjoy bike rides with my kids :)
Beautiful quality bike
Just finished assembling my bike. It went together easily enough that for most of it, you just need common sense and not the instructions! Instructions came in handy, though, for adjusting the brakes. I will be taking it to a bike shop for professional tuning, and to make sure I did everything correctly. It is really a beautiful bike! I was honestly expecting less from a bike I ordered online, but have been pleasantly surprised. I will update my review when I am able to do a good long ride on it.
Beautiful and comfortable ride!
Great bike, easy to assemble. Sturdy and comfortable ride!
I love my bike!
This is the best bike I have ever owned, by far. I ride my bike 5 times a week and wish I had more time to ride. I recommend Same bike to anyone who asks me. Assembly was easy, I did it myself!
Great Bike!!
Very happy with the bike. It came with instructions and was easy to build. Nice design, runs smooth, and overall happy with my purchase. The seat is comfortable, the frame is light. Price is comparable to other bikes available.